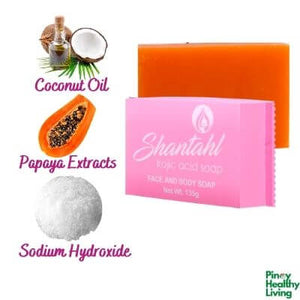 Shantahl's Kojic Soap for Acne fights acne and steadily improve skin's appearance. Wrong type of kojic acid soap can irritate the skin, making acne worse or making it difficult to use appropriate medications.
Shantahl kojic soap will remove surface oils and makeup thoroughly without irritation. Wash your hands and face regularly with shantahl's kojic acne care soap to kill pimple-causing bacteria and prevent them from causing pimples and acne in the future.
---
Frequently Asked Questions
Yes! Enable for us to give you a risk-free payment, we opted to provide with a COD system in place. Please note, cash on delivery is only available in the Philippines.
No. Please note that Shantahl Direct Sales is NOT liable for any side effects and potential dangers committed from underpriced Dr. Vita products. Buy only original.
To know more, Download our product brochure here.
Dr. Vita products are FDA approved, ISO certified, HALAL accredited and made from 100% natural, all organic non-GMO ingredients. Click to visit FDA website.
Delivery takes 1-7 days maximum for Metro Manila and Luzon while it might take 2-10 days for  Visayas and Mindanao.
International orders like the U.S. takes 12-16 days. Shipping fee (for international orders) is calculated upon checkout.